Beavers are herbivores - they don't eat fish!
Beaver dams and habitats can reduce flood risk
Beavers create wetland habitats that help wildlife
Beavers help people by improving water quality
Beavers will help nature recover in Wales
Beavers are known for their amazing ability to manage wetland habitats, breathing new life into them for the benefit of wildlife and people.
Beavers in Wales
The Welsh Beaver Project has been investigating the feasibility of bringing wild beavers back to Wales since 2005. This work is being led by North Wales Wildlife Trust on behalf of all five Wildlife Trusts in Wales as part of our Living Landscapes strategy and we now hope to undertake a managed reintroduction to Wales.
Beavers are known as nature's engineers. They make changes to their habitats which create diverse wetlands for other species to thrive.
Why are beavers important?
Beavers were once widespread across the Wales, but due to over hunting by humans for their fur, meat and scent glands they became extinct after the Middle Ages in Wales and by the end of the 16th Century they were extinct from the rest of Britain.
Beavers are very special animals because they play a vital role in enriching biodiversity by restoring and managing river and wetland ecosystems. They are known as a 'keystone species' because their activities can benefit a wide range of other animals and plants that live in rivers and wetlands.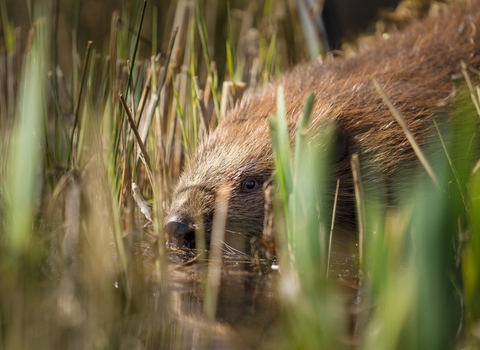 Cors Dyfi beaver family reunited!!
Following on from the release of the male beaver, 'Barti', and his son in late March, the mother beaver has now been reunited with her family group. The whole beaver family is now together at Montgomeryshire Wildlife Trust's beaver enclosure within Cors Dyfi Nature Reserve.
See what our beavers at Cors Dyfi have been up to!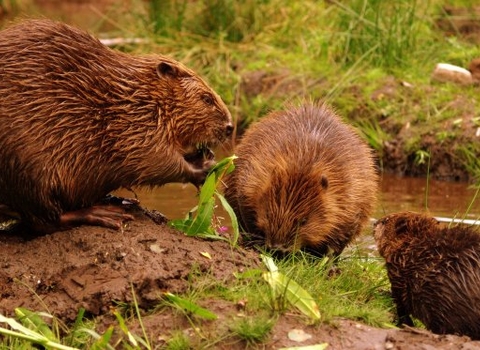 Become a beaver champion
Do you want to keep up to date with all the latest beaver news and ways that you can help? Then subscribe to our beaver e-newsletter ...
Subscribe today
Our Plans
Feasibility studies were undertaken in 2008 and we have recently submitted a licence application to Natural Resources Wales (NRW) for a managed reintroduction of beavers onto the River Dyfi. This will be a 5-year pilot to monitor the effects of beavers in the wild in Wales. We have established a Beaver Management Network as part of our proposals and this includes setting up a network of beaver volunteers who will be on-hand to deal with any problems caused by beavers so that we can all enjoy the benefits that beavers bring.
In due course there will be a public consultation led by NRW for people to have their say and hopefully beavers will be back in the Welsh landscape once again. We will keep you updated!
Download Feasibility Report (full version)
The Wildlife Trusts play a very important part in protecting our natural heritage. I would encourage anyone who cares about wildlife to join them.
Want to know more?
Beavers are amazing creatures, we've got loads of information that we'd love to share with you... Facts about beavers, case studies and how we can learn to live with them again!

This project has received funding through the Welsh Government Rural Communities - Rural Development Programme 2014-2020 – Enabling Natural Resources and Well-being Scheme, which is funded by the European Agricultural Fund for Rural Development and the Welsh Government.