Our young Scottish pair have now left Brenig on their annual migration, we hope they will be back in the spring when will have a new nest erected in readiness for their return.
Unfortunately, this year did not go as we had hoped after the vandalism of their nest on the 1st of May but the birds stayed at Brenig all summer and we hope this bodes well for the future.
We will keep you updated on what we are doing out of season on this webpage.
The osprey exhibition room in the Llyn Brenig visitor centre is still open daily and definitely worth a visit. Our 'Osprey Lookout' will reopen in the spring, and we may run some events throughout autumn and winter ... check our events page out for details. 
Update 12/10/21
The Brenig Osprey Project was devastated by news of the vandalism of the osprey nesting platform earlier this year. A pair of ospreys had established a nest and laid its first egg the day before vandals cut down the structure with a chainsaw under the cover of darkness.
Today, Openreach and GT Williams Ltd are kindly replacing the pole for free on behalf of Dwr Cymru Welsh Water and Brenig Osprey Project partners North Wales Wildlife Trust . The new nesting platform – made by Anglesey Fabrication Ltd – will be winched in later.
A big thank you to the team who came on site today to complete the first stage of re-erecting the nesting structure.
Watching Ospreys at Llyn Brenig
North Wales Wildlife Trust's main role in the Brenig Osprey Project is to help visitors understand the local wildlife, including these magnificent birds. Why not come and see them up close for yourself? There is a live feed to the nest in the Llyn Brenig visitor centre and with a telescope, you can see the pair from a safe distance from April to the end of August at our Osprey Lookout – just ask at the visitor centre for directions to our setup (an easy 5-minute walk away). There is also a pre-bookable photography hide, more details on when this will open will be available soon.
Our staff will be on hand throughout the nesting – please come and say hello!
The Brenig Osprey Project
The Brenig Osprey Project is a partnership between Welsh Water and North Wales Wildlife Trust.
As landowners, Welsh Water are responsible for the conservation of the Llyn Brenig ospreys and any decisions/actions taken to ensure their nest's protection from damage or disturbance. 
North Wales Wildlife Trust may offer advice on the conservation of the Llyn Brenig ospreys, but our main focus is to connect people with these amazing birds and the wider landscape they reside within.
A brief history

The Llyn Brenig Osprey project began in 2013 when Dŵr Cymru built the first nests using wood recovered when the café was redeveloped in the previous winter. These were used to put together the basic structure of three nesting platforms mounted on telegraph poles around the site.

By 2015, the first signs of success were beginning to emerge. A young male known as CU2, or "Jimmy", decided to call the area its home – before, sadly, being electrocuted on electricity pylons the same year. Occasional sightings continued through 2016 but, in 2017, there was a breakthrough. A pair of birds stayed in the area for the whole of the nesting season, showing a strong preference for a platform that had been put in the water.

In 2018, it was decided to focus all preparation effort on the nest they had shown such interest in during 2017. Dŵr Cymru, under the guidance of their Area Manager, Nick Kite, arranged for trail cameras to be mounted and extra perches added, both on the nest and in nearby woodland. 
Gors Maen Llwyd
"Visiting the Llyn Brenig Osprey Project?  Why not take some time to explore North Wales Wildlife Trust's Gors Maen Llwyd Nature Reserve?  At the north end of the lake, it's most easily accessed via separate car parking.  Find out more.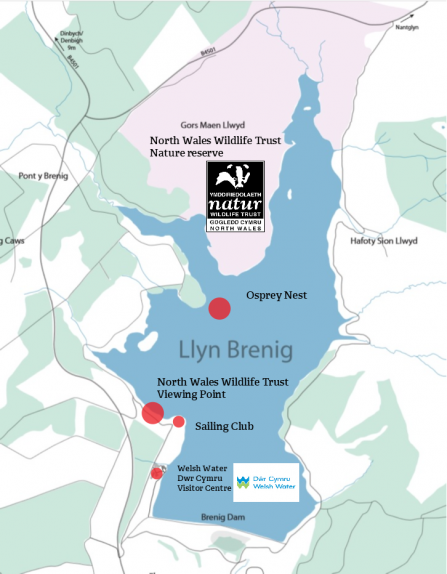 Become a member
Make 2021 a great year for you and the threatened wildlife you love in North Wales. Join today from £2.50 per month and become a wildlife hero …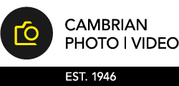 North Wales Wildlife Trust would like to thank Cambrian Photography of Colwyn Bay for supporting the Brenig Osprey Project and kindly providing us with optics for the season.
Make a donation
Your donation helps us create an environment rich in wildlife, valued by all.