Update 05/05/2021
Thanks for bearing with us whilst we prepared another update for you.  Here goes!
1. Our ospreys are still around – pair-bonded, fishing, showing territorial behaviour and generally indicating that they'd like to stay at Llyn Brenig.  They have been investigating the two nests, and the one at the original location in particular – see below!  This is good news – though it's very much a case of waiting and seeing, and absolutely minimising any disturbance.
2. As per our last update, we had a clear plan re. nests which we won't summarise again here, and which would have been enacted on Monday morning.  However, as many of you will have already read on Llyn Brenig's own facebook page, a further unauthorised nest was erected by an unidentified party on the remnants of the original nest pole on Sunday night.  (Please don't speculate further about this.)  Although, to an extent, this pre-empted what was planned for the following morning, it has caused no end of further complications which we needn't go into here.  Once again, we respectfully ask everybody to refrain from taking matters into their own hands on site – it isn't good for the birds, and isn't good for those trying hard to do their work whilst under a lot of pressure.  We are also left with the now-'spare' osprey nest, built by Wildlife Trust staff on Sunday afternoon – but we'll put that to good use 😊
3. Significantly enhanced on-site protection measures have now been implemented, with more to follow in the coming days and weeks.  We hope you'll understand that we aren't able to go into any further detail about what's in place, and would ask that everyone avoids public speculation (for obvious reasons).  We are also conscious of the huge number of offers of time, expertise and/or equipment from individual supporters, and we are actively looking at how best to utilise this support – we will be in touch once a plan is in place, but our absolute priority in terms of security has been the immediate days ahead.
Finally, we have been absolutely overwhelmed with people's offers of support of all kinds.  We are genuinely sorry that we aren't currently able to respond to each one individually, but we will be once we've had a chance to catch our breath!  One of the most frequent requests has been to donate money, which we're truly humbled by – in fact, the Wildlife Trust have already received over £10,000 in just four days, which the BOP team will be putting to good use in the days ahead.  Thank you so much!  For those wishing to make further BOP-related donations, it would help us if you could use this dedicated form: https://www.northwaleswildlifetrust.org.uk/donate/brenig-osprey-project.  Of course, we really appreciate your support however it's given – and thank you for the kindness expressed alongside it.
All the best for now – another update to follow as and when we can,
Team Brenig Osprey Project
Previous updates
Update 02/05/2021

Once again, thank you for your support over the past 36+ hours. Today has been another long and busy day – below is an update. Please forgive us if there is no further update for a little while, and accept our apologies that we aren't able to respond to all the messages we're getting at the moment – once again, our priority has been taking on-the-ground conservation measures for the birds. So …

1. Our nesting pair (and a guest, welcome or otherwise!) are still around – see our update of earlier this morning! This is good news, and gives us hope that we may yet have a breeding season here.

2. Yesterday, we cleared a second nest platform in the hope that the birds would choose to make it their home. At the time, our absolute priority was ensuring that something was available to them, causing the minimum disturbance possible. However …

3. After obtaining a range of expert advice throughout yesterday and this morning, a decision has today been made to also place a new nest and amended platform in the original location. The aim is to give the birds a choice of two nest sites, including something as close as possible to their original. Wildlife Trust staff have spent this afternoon building a new nest from scratch and, if all goes to plan, Welsh Water will erect it tomorrow morning.

4. Once it becomes clear which, if either, nest site the birds choose, we will establish what security measures can be put in place to protect them. We cannot emphasise strongly enough how out-of-the-ordinary Friday evening's attack on the nest was – most UK nesting sites are not monitored 24/7 because there has been (thankfully) little need to, particularly in recent years. We will do what we can, and will be in touch further about what support might be needed. Thank you for all the offers received so far.

5. We are conscious that there is a view that publishing information about the birds is unwise – or even irresponsible. However, we firmly believe that the risks of doing so are outweighed by the benefits, and that those determined to harm the birds would find out all relevant information even if not in the public domain.

Finally, please bear in mind that none of these decisions are straightforward, and that there is rarely absolute consensus on the best way forward. There are alternatives, which can have some advantages, but no position (and no decision-maker) is perfect. Staff are making decisions under huge pressure and based on the best science and evidence available – please be kind to those involved at this difficult time, even if you disagree. In all decisions, the welfare of the ospreys is of paramount concern – and let's not forget that none of us would be having these discussions were it not for the actions of the perpetrator. If you know anything – anything at all – about who did this, please contact North Wales Police, using crime reference Z059734.

We'll be in touch with more news in the week, as and when we're able to provide it.

Team BOP
Update 01/05/2021

Brenig Osprey Project partners woke up this morning to the worst possible news. Last night 30/4/21 , at 21.42, someone took a chainsaw to the osprey nest and felled it. This is a fast-moving situation and we'll issue more news of the birds when we can – please, please be kind to staff this weekend as we work out how to respond to this horrific act of vandalism.

For a start – if you have any information that can help us identifying the individuals responsible, please let us know or contact the police with crime reference Z059734.

Hello everyone / P'nawn da, pawb

From all of us at Welsh Water and North Wales Wildlife Trust, thank you so much for your support today. It's been a long morning! Some thoughts and news to share:

1. Thank you again to everyone who has been offering to help – whether it's financial, volunteering or anything else. At the moment, our priority has been to protect the birds (see below) – we may need to ask you for practical support in due course, but please bear with us whilst we get appropriate measures in place.

2. This morning, Welsh Water staff have cleared one of the nearby, 'closed' platforms – which our nesting pair had already been scouting out. Our hope is that they will relocate to it within days – the female may well even be ready to lay, and we think we've given her a good option. Until we know whether they'll use it, our protection measures will be mostly reactive and there may be limitations on what can be delivered at the new platform. Again, please bear with us whilst we get things in place – we'll update everyone as soon as we possibly can.

3. Once again, the biggest thing that anyone can do is to help North Wales Police catch those who perpetrated this horrific wildlife crime. If you have any information at all, please contact them – the crime reference number is Z059732. All those on site have given statements this morning, and we offer the police our unconditional support.

We might be signing off now for a little while, and may take longer to get back to enquiries than normal. Please rest assured that this is because we are concentrating on the birds themselves – but we'll do everything we can to keep you informed.

All the very best for now,

Nick, Natalia, Mark, Graeme, Kim and all from the Brenig Osprey Project
Make a donation
Your donation helps us create an environment rich in wildlife, valued by all.
Watching Ospreys at Llyn Brenig
North Wales Wildlife Trust's main role in the Brenig Osprey Project is to help visitors understand the local wildlife, including these magnificent birds. Why not come and see them up close for yourself? There is a live feed to the nest in the Dwr Cymru visitor centre and with a telescope, you can see the pair from a safe distance from April to the end of August at our Osprey Lookout – just ask at the visitor centre for directions to our setup (an easy 5-minute walk away). There is also a pre-bookable photography hide, more details on when this will open will be available soon.
Our staff will be on hand throughout the nesting – please come and say hello!
The Brenig Osprey Project
The Brenig Osprey Project is a partnership between Welsh Water and North Wales Wildlife Trust.
As landowners, Welsh Water are responsible for the conservation of the Llyn Brenig ospreys and any decisions/actions taken to ensure their nest's protection from damage or disturbance. 
North Wales Wildlife Trust may offer advice on the conservation of the Llyn Brenig ospreys, but our main focus is to connect people with these amazing birds and the wider landscape they reside within.
A brief history

The Llyn Brenig Osprey project began in 2013 when Dŵr Cymru built the first nests using wood recovered when the café was redeveloped in the previous winter. These were used to put together the basic structure of three nesting platforms mounted on telegraph poles around the site.

By 2015, the first signs of success were beginning to emerge. A young male known as CU2, or "Jimmy", decided to call the area its home – before, sadly, being electrocuted on electricity pylons the same year. Occasional sightings continued through 2016 but, in 2017, there was a breakthrough. A pair of birds stayed in the area for the whole of the nesting season, showing a strong preference for a platform that had been put in the water.

In 2018, it was decided to focus all preparation effort on the nest they had shown such interest in during 2017. Dŵr Cymru, under the expert guidance of their Area Manager, Nick Kite, arranged for trail cameras to be mounted and extra perches added, both on the nest and in nearby woodland.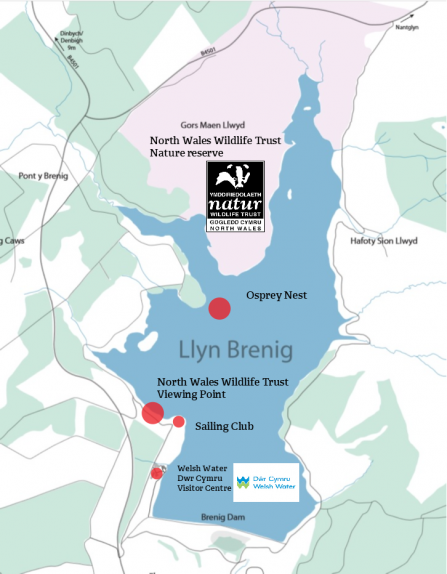 Gors Maen Llwyd
"Visiting the Llyn Brenig Osprey Project?  Why not take some time to explore North Wales Wildlife Trust's Gors Maen Llwyd Nature Reserve?  At the north end of the lake, it's most easily accessed via separate car parking.  Find out more.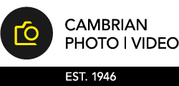 North Wales Wildlife Trust would like to thank Cambrian Photography of Colwyn Bay for supporting the Brenig Osprey Project and kindly providing us with optics for the season.