Stand for Nature Wales is a national youth project with a big ambition! 
The five Wildlife Trusts in Wales are joining forces to mobilise young people to tackle the climate and ecological crises head-on. For the next three years, we will be working to empower and inspire young people to take action for nature and wildlife in their local area and unite their communities in an effort to reduce their collective environmental impact. From urban Cardiff to rural Anglesey, young people are standing up for nature and securing a greener future, and we want you to join us!
The project has been made possible thanks to the National Lottery's 'Climate Action Fund', a ten-year £100 million fund supporting communities across the UK to take action on climate change.  
Here in North Wales we will be working on Anglesey, expanding our existing youth-led environmental forum and linking with local schools, businesses, public sector organisations, charities and grass-roots community groups to help improve green infrastructure and promote sustainability on the island.
From Porth Swtan to Llanddwyn, and Porth Dafarch to Lligwy our incredible young people will be running campaigns and projects right across Anglesey. All activities are entirely youth-led and will be facilitated by Andy and Charlotte, our dedicated youth engagement and development team.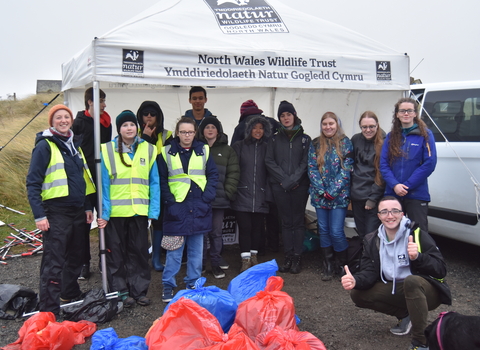 Join our Youth Forum
If you're a young person aged 11-24, living on Anglesey, with a passion for wildlife and an interest in climate action then we'd love to hear from you. It doesn't mater if you don't know anything about local wildlife or climate issues, as our team will provide you with all of the knowledge, training and support you need to help make a difference to your local area.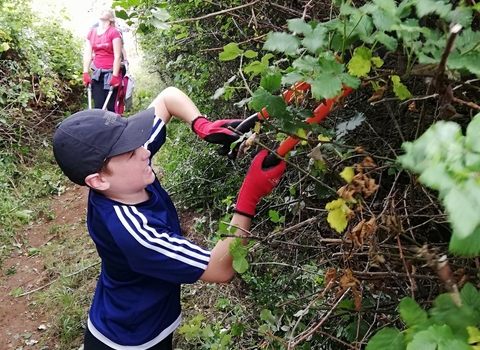 Volunteer with us
Regardless of your age, if you live on Anglesey and are interested in volunteering alongside passionate young people to help improve your local area for wildlife and reduce your environmental impact then please get in touch. There are lots of ways to get involved and you don't need any prior knowledge to take part.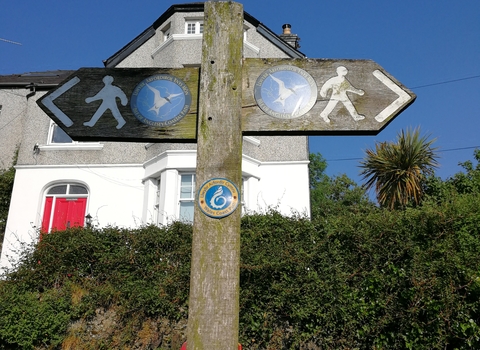 Sign up for e-news
As the project builds we'll be sharing stories, news and opportunities from Anglesey and across the other Welsh regions via a monthly e-newsletter. Register here to get a monthly dose of wild, eco-inspiration straight to your inbox!
Take Action!
In time, this page will become a live space for project updates and youth-curated online content. For now though, here are some resources, guides and ideas for actions that you can take to start reducing your environmental impact and improving your local area for both people and wildlife.
Assess your environmental impact

Whether you are taking small steps or giant leaps, any changes you make to reduce your impact will contribute enormously to our collective effort as a planet. Lots of small actions together make a big difference, and with pioneering legislation in place to help us, people in Wales can lead the way in demonstrating what the environmentally sustainable communities of the future will look like.

The WWF have produced a brilliant online tool to help you calculate the size of your environmental footprint. Complete the questionnaire to see how you stack-up against the national average and get great ideas on how you can start to reduce your impact.

 
Reduce your emissions

Carbon dioxide is one of the main gases warming up our planet today, released into the atmosphere by almost every activity we do as a species. To demonstrate how bad the situation is, in 1900 there were 296 parts per million (ppm) of carbon dioxide in the air, but today there is 408 ppm. This is substantially higher than at any other point in the last 3 million years. The world has now woken up to this as a major problem, with young climate activists in particular helping to raise awareness of the issues. There are amazing solutions being devised to bring us down to carbon negative (a scenario that would see humankind putting carbon back into the ground), but we all need to do our bit to help the process along. 

What can you do as an individual:

Walk, cycle, jog or take public transport to work if you can.
Insulate your home. In an independent review to Welsh government by the Decarbonisation of Homes in Wales Advisory Group in 2019, it was noted that Wales has one of the oldest housing stocks in the UK and Europe with 32% of houses built before 1919 when there were no standards for keeping in warmth. Further to that, only 10% of current homes were built in the last 18 years during the period when insulation law has changed greatly. By ensuring you have good loft, cavity wall and ceiling insulation you will find that not only are your carbon emissions much less, but also that your household bills will be lower.
Don't buy products which contain peat. Peat has been used for many years as a compost and fuel, but peatland habitats across the UK are severely depleted and have now been found to be releasing carbon back into the atmosphere instead of storing it. This is a major issue, so always double check that label! You can find guidance on how to go peat free here.
Buy local. Food miles, furniture, gifts and general 'stuff' make up a large part of every individuals carbon footprint, with much of our items being grown and made in other countries and shipped or flown into the UK. If you buy your produce and items closer to home, then you can cut your footprint down massively.  There are plenty of manufacturers, local farmers, and craftspeople in North Wales using local and often sustainable materials to create their products, so have a look around to see what's available. 
Buy less. Buying local will reduce your personal carbon footprint, but the best thing we can all do to reduce our impact on the planet is to learn to live with less. Less can be harder than local, but we can all start small and learn to live with less as we grow older. It doesn't need to be a chore either, but instead it can be a new opportunity. Instead of throwing old clothes away to buy new ones why not try using the fabric to make new clothes and learn how to sew? Perhaps that old shirt can be a new dish cloth or facemask? Maybe that old piece of furniture just needs a sand and a lick of paint to give it a new lease of life? There are plenty of skills we can all learn to make the most of all of our stuff! 
Volunteer with us. All of the work that North Wales Wildlife Trust does helps to tackle the twin threats of the climate and ecological emergencies. By creating and restoring habitats for wildlife to thrive we also improve their ability lock away carbon. Wherever you are in North Wales, there will be Trust nature reserves and activities going on close-by, so why not get in touch and find out what's happening near you. There are volunteering opportunities suitable for all ages and abilities, and it's a great way to stay healthy and meet new people!   
Be smart with plastics

The first fully synthetic plastic, known as Bakelite, was invented in 1907 by Leo Baekeland, and since then the variety of plastics and their uses has exploded. World War II saw the greatest diversity in plastic development with a 300% rise in plastic production in the US alone. For decades plastic was touted as the ultimate money-saving, disposable household material - but by the 1960's people started noticing plastic turning up in the oceans. Unfortunately, we now know that all plastic that has ever been created still persists in our environment; harming our wildlife and finding its way in the form of microplastics to the remotest areas of our planet. However, there are things we can all do to help turn the tide on our rising sea of plastic. 

What you can do at home:

Shop for plastic free alternatives to the items you would usually buy. Use paper bags instead of buying fruit and veg in plastic bags, visit a fill-your-own station, or try and cut down on your plastic-encased luxuries! 
If you need to buy plastic, buy plastic that is recyclable and make sure it goes into the recycling bin. Any plastics that go into a public general waste bin, or your own general waste bin at home will usually go to landfill where they can still leach out into the environment. 
Use ©Terracycle centres to recycle those bits of plastics that you can't recycle at home. The North Wales Wildlife Trust office takes in crisp, biscuit and chocolate packets as well as Pringles tubes. Visit the ©Terracycle website here to find out what you can recycle locally.

©NWWT_AndyOCallaghan

North Wales Wildlife Trust also hosts beach clean events throughout the year. Check out our events page to find out what's happening near you.
Make space for wildlife

You don't need to live in the countryside or have a huge garden to get close to wildlife. We have a huge library of online resources, guides and activity sheets to help you and your family create a bit more space for wildlife, and do your bit to protect our native plants and animals from further decline.

 
Our Young People
North Wales Wildlife Trust has been putting young people in the lead since 2016 when we launched the Our Wild Coast project; a five year programme to engage young people in nature conservation and the outdoors across North Wales. The project concluded in March 2021 but the youth forums established as part of it helped to create 'Stand for Nature Wales' - ensuring the legacy of this ground-breaking initiative.