At 15,000km2 Wales' territorial sea nearly doubles the size of Wales!
Lying where warm waters from the south meet cool nutrient rich currents from the north, the sea around North Wales is special in many ways and is home to a vast array of weird and wonderful wildlife. 
With a few hundred kilometres of coastline stretching from the Dee Estuary to Aberdyfi, we are lucky enough here in North Wales to experience a large range of coastal and marine habitats from saltmarshes to tidal rapids and mudflats to rocky reefs. However, Welsh seas are in trouble! Recent reports show that between a third and a half of marine species are in decline, there is a continual increase of litter entering our seas, there are threats of unsustainable infrastructure development and we now see the growing effects of global climate change.
As natural champions for coastal and marine wildlife we are working towards our vision of Living Seas. A vision for the future where marine wildlife thrives, from the depths to the coastal shallows.
What are Living Seas?
Wildlife and habitats are recovering from past decline as our use of the seas' resources becomes environmentally sustainable.
The natural environment is adapting well to a changing climate, and ocean processes are helping slow down climate change.
People are inspired by marine wildlife and cherish the sea for the many ways it supports our quality of life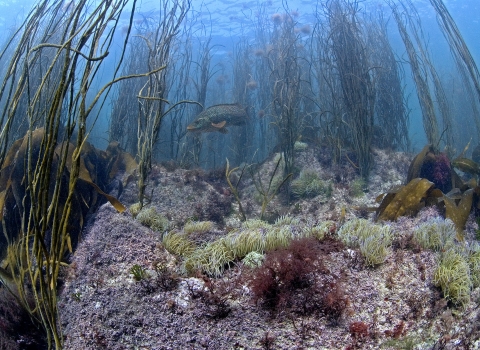 The way back to Living Seas
Read our proposals for a UK Marine Strategy to guide development at sea,  environmental limits for fishing and protected areas for wildlife
Discover the wildlife in our seas