The power of nature
The science is in. Our natural world is not only the most awe-inspiring and fascinating aspect of planet earth nor just a home to an incredible and near infinite array of life ... it's also an incredibly powerful provider of health! Exposure to wildlife-rich land and seascapes can boost our brain and our mood, it can strengthen our immune system, lengthen our lifespan and even make us kinder and more generous! 
We want you to champion this knowledge by putting it into practice every day, encouraging yourself and others to connect with nature in any way you can. It's our belief that if we all do this, we won't just be creating a happier and healthier world, we'll also be supporting the wildlife and the wild places we love.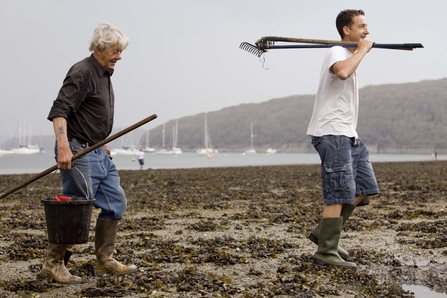 #MyNorthWales
We know that having a good connection with nature is beneficial to human health.
Please share your own experiences on our social media channels using the hashtag #MyNorthWales and we'll put some of them in the gallery below.
One study found that just 5 MINUTES of green exercise results in improved mood and self-esteem!
Ways to connect with nature through the North Wales Wildlife Trust
5 WAYS TO WELLBEING
While we could present you with a whole heap of information on how to get the health benefits from nature, thankfully the 2008 UK Government's 'Foresight Project' in combination with the New Economics Foundation has done the hard work for us.
They've condensed the work of over 400 scientists on nature and wellbeing into 5 evidence-based actions. Take a look!
The Science
This page has only used a snippet of the many, many studies that show how beneficial a connection with land, sea and wildlife is to our health. If you're interested in diving deeper, check out some of the reports and studies listed below!
Going forward ...
We hope you've enjoyed our little introduction into the ways in which nature can help us feel happier, healthier and more fulfilled. 
This page will be updated with new stories, pictures and suggestions on how nature supports our health and well-being. So make sure you check back in!
Why not try our some of suggestions. Wrap up warm and connect with North Wales' natural world in the best way you can. With any luck, it'll leave you feeling better and ready for more!