Update 03/09/20
Following the reports of filming and associated activities at Llyn Brenig, we have now supplied North Wales Police's Rural Crimes Team with our own information based on our observations of the Llyn Brenig ospreys in 2020, and a comparison with previous breeding seasons. Please be assured that this remains an important issue for us and we will continue to work towards ensuring that the birds receive full protection this year and in the future.  Once again, we want to make clear that we were not asked to assess the potential impact on the ospreys of any of the activities linked to the filming in advance of the works taking place: or, indeed, told that the works were due to take place at all.
We have continued to monitor the ospreys over the past week or so (see previous updates here), although it is more difficult to follow their activity since they changed their location. We are grateful to have had help with this from others who have reported their sightings to us.  Blue 24 was last positively identified at Llyn Brenig on 29/8/20, whilst we saw two ospreys flying high in the sky over the far end of our Gors Maen Llwyd Nature Reserve on 30/8/20. We also spotted a bird on 31/8/20 which may have been an osprey but was very high up and far away. As far as we are aware there have been no further sightings of any of the three birds, suggesting that they have all left on migration.
We will continue to monitor the area until we are sure that the birds have departed for the winter – come and visit our lookout point (just past the sailing club) on between Friday and Sunday (4-6 September) from 11:30 onwards.
Watching Ospreys at Llyn Brenig
North Wales Wildlife Trust's main role in the Llyn Brenig Osprey Project is to help visitors understand the local wildlife, including these magnificent birds. Why not come and see them up close for yourself? With a telescope, you can see the pair from a safe distance from April to the end of August – just ask at the Dŵr Cymru visitor centre for directions to our setup (an easy 5-minute walk away).
Our staff will be on hand throughout the nesting – please come and say hello!
The Brenig Osprey project
UPDATE 
Llyn Brenig is now open, our new Osprey lookout, working within Social Distancing rules opened on the 16th of July.
A brief history

The Llyn Brenig Osprey project began in 2013 when Dŵr Cymru built the first nests using wood recovered when the café was redeveloped in the previous winter. These were used to put together the basic structure of three nesting platforms mounted on telegraph poles around the site.

By 2015, the first signs of success were beginning to emerge. A young male known as CU2, or "Jimmy", decided to call the area its home – before, sadly, being electrocuted on electricity pylons the same year. Occasional sightings continued through 2016 but, in 2017, there was a breakthrough. A pair of birds stayed in the area for the whole of the nesting season, showing a strong preference for a platform that had been put in the water.

In 2018, it was decided to focus all preparation effort on the nest they had shown such interest in during 2017. Dŵr Cymru, under the expert guidance of their Area Manager, Nick Kite, arranged for trail cameras to be mounted and extra perches added, both on the nest and in nearby woodland.

A matter of days after it was prepared for the year ahead, a female osprey arrived, ringed Blue 24. Shortly afterwards, after a few tours of North Wales, she settled back on the nest, along with her new partner, HR7. By late April it was clear that a serious nesting attempt was underway, and it was concluded that there were chicks on the nest by early June. It was the first hatched ospreys verified in the area in over 100 years.  
The Birds

The female, Blue 24, is a bird that fledged from Rutland Water. She shares the same ancestry as Blue 3J, the female bird that bred at the Dyfi Osprey Project in 2018, and has some history in Wales before coming to Llyn Brenig. She's quite old to have a first successful nest at the age of 8, having previously attempted to nest elsewhere – sadly ending in failure each time. Her new nesting location is a much better choice, being close to an abundant food source with minimal energy expenditure required to hunt, protected from ground predators like pine marten, and away from other nests.

The male osprey, HR7, exchanged his homelands of Aberfoyle in Scotland for the lakes and hills of Wales. Beyond this, he's a bit of a mysterious character!

HR7 and Blue 24 raised a single female chick in 2018. The chick, ringed Blue Z9, was named Luned, after a character in the Mabinogion. We hope to see Luned again in 2020 when she should return to the Wales for the first time from Africa.

On the 27th of June 2019 another male chick was ringed as KA5 and named Roli, we will keep you updated with all the birds progress.It's looks very much as though HR7 and KA5(ROLI) have now left on migration. We think they both went on Saturday, 7/9/19, weather conditions were right. With BLUE24 leaving a week or so earlier.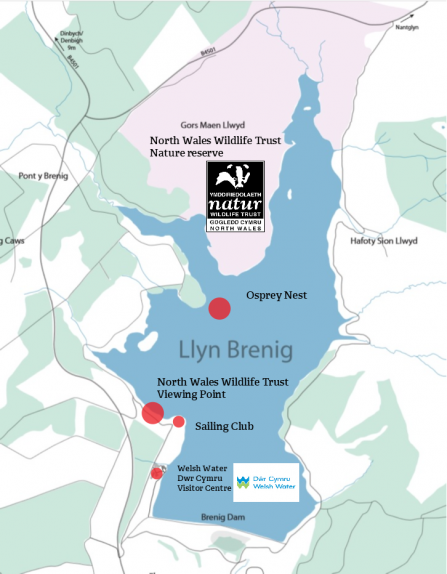 Gors Maen Llwyd
"Visiting the Llyn Brenig Osprey Project?  Why not take some time to explore North Wales Wildlife Trust's Gors Maen Llwyd Nature Reserve?  At the north end of the lake, it's most easily accessed via separate car parking.  Find out more.