Help monitor our marine wildlife
Running across the UK, the Shoresearch set of surveys is The Wildlife Trusts' Citizen Science study of that space revealed each day by the outgoing tides.
Originating in Kent in 2003, the surveys have been through a series of updates and are now widely used across the UK. Volunteers are trained to identify and record the wildlife on shores across the UK. The data collected by this project helps experts to monitor our fragile sea life and better understand the effects of pollution, climate change and invasive alien species.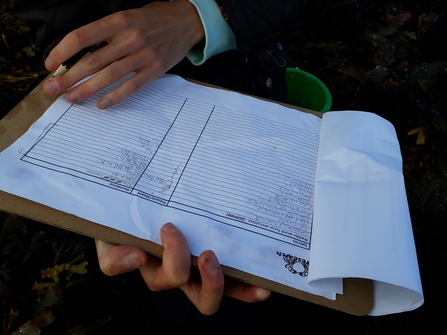 What's involved with Shoresearch Cymru?
The Shoresearch surveys in North Wales have been developed to address the needs of our local shores together with Natural Resources Wales. With Welsh Government funding, they are set to become a regular package helping our volunteers keep our shores monitored, with a particular focus on Marine Protection Areas and Marine Invasive Species.
The surveys are designed to suit those who would like to work together in a group or, once trained, head out with their shore buddy as and when they can fit it in. The surveys can take from several hours to just over half an hour. It's a great way to explore your local coast, learn more about the wildlife found there and add to our understanding of this important habitat.
Find out more
Learn more about the survey types, the training and the areas on which we'll be focusing, initially. 
The training

Training is carried out in stages, helping our volunteers move from novice to experienced surveyor. This will help produce data which is reliable and able to be used effectively for Conservation purposes.

Our initial work areas are:

1. Penllyn 

2, Anglesey

3, Conwy County

After the initial basic introduction there will be a series of online information packages with quizzes to work through. This will be accompanied by time on shore carrying out surveys within the regular monthly surveys across three regional areas of North Wales as well as time out independently to complete additional surveys. 

This training is designed to provide the information together with time out witnessing the intertidal species in real life, which helps to cement information. There will additionally be the chance to discuss sightings with others include survey leaders and experience surveyors. 

Future work will include specific surveys with clear questions and may be one-off or seasonal requests for help within the regular set of survey sites and species lists. 

Feedback will be by way of reports and blogs and there will be chances for those gaining experience to help train others and create promotional pieces for the project. 
The Surveys

Quadrat Biodiversity Survey

The Quadrat Biodiversity Survey is for shores of hard substrate (rocky, pebbles/shingle, bedrock) and involves collecting species abundance and habitat data at random points, in a selected area of the intertidal zone, using a quadrat.

Timed Species Search

During this survey a select list of species are searched for across an area of shore within a fixed time period to assist with the monitoring of their distribution around the UK.

Walkover Survey

The Walkover Survey is for shores of hard substrate (rocky, pebbles/shingle, bedrock) and involves collecting qualitative information on species found within a selected area of the intertidal zone.

 

Surveys to come………………….

Box Corer Biodiversity Survey

The Box Corer Biodiversity Survey is for intertidal sediment shores (sand, mud, silt) and involves collecting species abundance and habitat data at random points, in a selected area of the intertidal zone, using a corer.

 

While you're out:

Under the umbrella of the Shoresearch surveys are our Beached! survey documenting species wrecks on the shore while you're out. This can be undertaken as part of the Shoresearch Timed Species Search of strandlines and the wider beach and can fit into a regular trip to the shore with family, whilst carrying out other wildlife surveys on the beach such as bird surveys or just on a trip with the hound. Find out more about Beached! here.
Shoresearch Blogs

Take a look at the some of the highlights of our Shoresearch surveys recently by reading our series of monthly blogs. 
Are you ready to join us?
Join us as a volunteer  and you will receive a volunteering e-news letter with all our regular volunteering opportunities available as links within.
If you'd like to have a go first, then keep an eye out for have-a-go events coming up. You can learn more about the rest of our Living Seas volunteering work etc here. 
Feel free to contact us for more information. 
Why not begin your learning now?

Our website is a great way to introduce yourself to some of the commonly found species found on our North Wales coasts. There are tasty snippets of information too. We think, after investigating our habitats and species pages you will be enthused enough to join us on shore to see if you can find out more and help these amazing, often outlandish species to thrive once more. 
This project is possible thanks to the support of the Welsh Government.