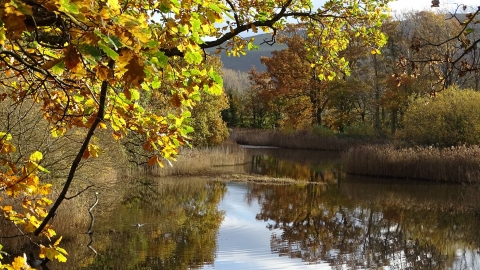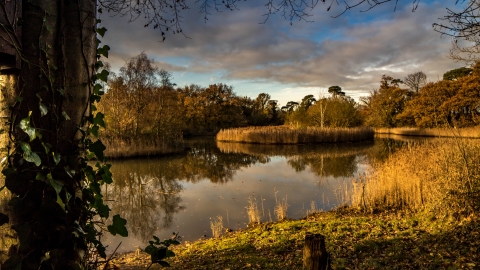 A coastal lagoon where a variety of birds including waders and ducks are visible from its paths and hides. Well-loved for its regular sightings of kingfisher.
Location
Know before you go
Entry fee
No
Parking information
Large car park at the shore (SH615723); limited parking at roadside south of here (SH614721). Please keep footpath and gate at main entrance clear of cars to allow farm machinery to pass
Bicycle parking
Yes - just inside main entrance
Grazing animals
No
Walking trails
From the car park near the beach walk back along the road to the reserve entrances where a short walk takes you to one of two hides. It is also possible to walk along the shingle beach but it is uneven, difficult walking and should be avoided as high tide approaches as feeding birds will be disturbed. There is limited parking adjacent to the Kingfisher Bird Hide . The main entrance should only be used as a drop-off point for less-abled visitors. Please bear in mind that this area is used as a turning area for farm vehicles. The main path is suitable for pushchairs and wheelchairs as is the Main Hide. 
Access
Well maintained paths and gates are suitable for pushchairs and wheelchairs. The Main Hide is designed to allow bird-watching from a wheelchair.  
When to visit
Opening times
Open during day light hours
Best time to visit
Autumn and Spring for migrants; summer for breeding birds. An hour or so either side of high tide is best for views of birds on the estuary
About the reserve
The Spinnies, Aberogwen is a mosaic of wetland and woodland adjacent to the Ogwen Estuary and Traeth Lavan on the coastal plain of North Gwynedd. Traeth Lavan is an internationally important area of birds. The Spinnies, Aberogwen is one of a suite of wetland sites in this area. These sites are important high water roosts/ feeding areas for a range of ducks and waders including greenshank and wigeon. The Wildlife Trust Nature Reserve is a very popular spot for bird-watching with excellent paths giving easy access to two hides with views over the lagoons  estuary of the River Ogwen and Menai Strait. It is famous for its views of kingfisher and little egret.    
Spinnies Aberogwen nature reserve_Guide and Map