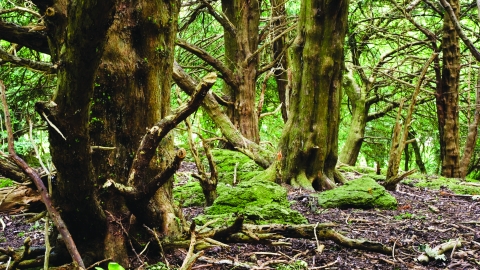 Ancient Yew woodland on limestone pavement overlooking the Vale of Clwyd
Location
Know before you go
Entry fee
No
Parking information
There's a large car park at Siop Pwllglas, about 10 minutes walk from the reserve
Grazing animals
No
Walking trails
A number of paths through woodland, steep in places.  Some of the paths cross section of limestone pavement, which can be slippery during wet conditions
Access
The easiest place to park is in the car park by Siop Pwllglas, the reserve is about 10 minutes walk up a steep but quiet  lane, heading off past Capel y Rhiw.
Alternatively, park in the layby just close to the River Clwyd  (SJ127553), off the road to Llanfair DC.  A finger post marks the reserve entrance but care is needed crossing the A494
When to visit
Opening times
Open at all times
Best time to visit
Spring for dawn chorus, pied flycatchers and wild daffodils
About the reserve
A compact reserve of ancient Yew woodland on limestone pavement overlooking  the Vale of Clwyd.    The site forms part of the larger Eyarth Woods and Rocks Site of Special Scientific Interest designated in 1972. The site is particularly notable for being one of three sites in Britain for the limestone woundwort Stachys alpina and it is the only yew Taxus baccata woodland in Clwyd. A great place to visit in Spring to hear the dawn chorus, see stinking hellebore Helleborus foetidus, wild daffodils Narcissus pseudonarcissus and morels. In Summer you can find common spotted orchids Dactylorhiza fuchsii and Stachys alpina in the small disused limestone quarry grassland. Autumn brings earth star fungi Geastrum triplex  and bright pink spindle Euonymus europaea berries.  
Contact us
North Wales Wildlife Trust - Graham Berry
Environmental designation
Site of Special Scientific Interest (SSSI)