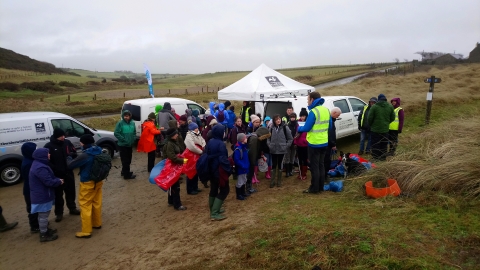 Plast Off! 2020
Location:
Aberffraw,
Anglesey,
LL63 5LX
Join us at Aberffraw on 21 February for our first big community beach clean event of 2020!
About the event
It's that time of year again, when winter storms lash our coast and bring with them that sad reminder of the vast quantity of plastic pollution present in our oceans. It's a truly global problem which can often seem insurmountable, but getting out there and helping to keep your local beach clean can make a huge difference to the wildlife that calls it home.
Our 'Plast Off' beach clean events are fast becoming legendary! It's a great, sociable way to do your bit to help local wildlife - and it's suitable for all ages so the whole family can get involved. 
'Plast Off 2020' will be taking place between 11:00 and 15:00 on Friday 21st February at Aberffraw. We will have staff on hand in the car park by the bridge (Pont Aberffraw) to brief and equip all members of the public who want to join in. All you need to bring is a 'can-do' attitude and plenty of warm waterproof clothing. In an exciting new development, our friends at The Wildlife Trust of South and West Wales are planning to hold their very own 'Plast Off!' events at the same time as us in different locations in Mid and South Wales, meaning that we'll be part of a bigger effort than ever before!
We hope to see you there!