Remember a Charity in your Will Week
Len Goodman is back supporting Remember A Charity Week, letting you know that even a small gift in your Will can make a huge difference. Help us to protect the wildlife on your doorstep for generations to come.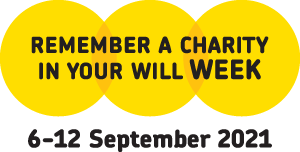 Alongside Len Goodman, North Wales Wildlife Trust is celebrating Remember A Charity in your Will Week in a number of exciting ways:
How to write your Will
We have entered into a number of partnerships that enable our supporters to write their Wills for free – without any obligations whatsoever.  In each case, we are paying a discretionary rate for a limited number of simple Wills to be written – if matters are more complex, you will need to pay any additional fees.
Importantly, ALL our free Will-writing services are checked by a fully qualified solicitor to give you piece of mind that your loved ones are secure.
Write your FREE Will online
The quickest and easiest way to write your Will is to do so online. It can take as little as 30 minutes, all Wills are checked by a solicitor, and there is no obligation to leave a gift to North Wales Wildlife Trust.
Use a FREE solicitor
If you'd rather use a traditional local solicitor we can offer that too, free of charge, via the National Free Wills Network.
Write your FREE Will on the telephone
You can also create your Will, free of charge, on the phone, through a video call or even in your own home.
Use your own solicitor
You can, of course, use your own family solicitor and pay for your own Will.
Leave a gift in your Will
Help protect local wildlife and wild places for future generations by leaving a gift in your Will.
Once you have provided for your loved ones, remembering North Wales Wildlife Trust in your Will helps keep your memories of our wildlife alive for future generations.
We need this support to ensure that the children of North Wales will be able to continue to enjoy their wildlife and wild places as they grow up and have families of their own.
Every gift in every Will, however large or small, makes a difference.
What will your legacy be?
Legacies already do wonderful things – in recent years, they've helped us manage nature reserves, protect individual species, save wildlife sites, plant trees and help schoolchildren make beautiful wildlife gardens. Leave your footprint in our landscape forever and leave a wildlife legacy.
"I've been putting off writing my will for many years as it always seemed complicated. The NWWT will writing service is quick and really easy to use, making leaving a legacy to help Nature really simple." Lyn