Tess's School Litter Pick
Inspired by Blue Planet 2, Tess - a primary school pupil from Ysgol Nercwys organised a school trip with Dawn, our Living Seas Projects Officer and Iwan, our Education & Community Officer. Since then she's featured in Wildlife Watch & Gwyllt! and has just received her Green Blue Peter Badge! Here's Tess's blog about how she's helping our marine life by getting her class out and about...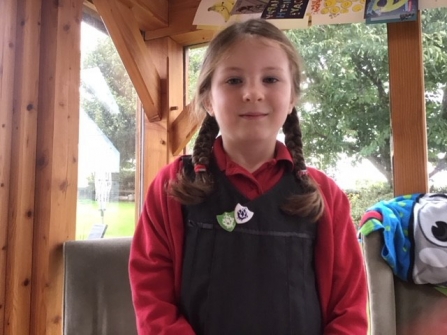 I got the idea from Blue Planet 2.
Blue Planet 2 is a programme with animals in and telling you about them. I think you should watch it! It made me feel sad when I watched it and saw all the animals getting killed because of plastic in the sea. When humans put plastic in the sea, little fish eat the little bits of plastic in the sea and then big fishes eat the little fishes, and then some even bigger fish come and eat the big fish. A dolphin or something comes along and tries to eat that bigger fish and then its milk gets poisoned and its baby drinks a bit of it and then it dies. I felt sad, so I stood up and stopped the programme and said, "Let's do a beach litter pick for a school trip! Because the animals could die!"
I asked Mrs Meaden (my teacher) if we could do a school trip litter pick and she said 'Yes!' Mummy asked Dawn from the North Wales Wildlife Trust if she could help us, and she said 'Yes!' so it was all planned.
On Thursday we got ready and we went to school, Mummy was coming too. We went to the toilet and got our bags and stuff. And then we got onto the bus. And we drove to Talacre Beach. We sorted each other into groups, three people in every group had litter pickers. One person had a bag to put the litter in. And one other person had a board that said some rubbish on there, but our group didn't have a board, so we just had to remember it.
Socks and cigarettes...
We found two socks, a barbecue, and lots of cigarette ends, a plastic bottle and some lids. We also found lots of millipedes! We filled one big, big, big, big, big bin bag! We found lots.
Then Dawn had some buckets and she gave them to the children and she asked us to find stuff that was not plastic or rubbish. But no live animals. We found really nice rocks, and some small spotted cat fish shark egg cases and a thorn back ray egg case. And we found whelk egg cases – and you can see it in the pink bucket in the image gallery above, it's that spongey looking thing.
Would you like to hear this fact about the whelk babies? OK, the ones that come out first sometimes eat the rest of their brothers and sisters! Dawn said 'I hope you sleep well tonight, but the story might keep you awake'!
Dawn told us about not putting plastic in the toilet, or dropping it on the beach. We ate our picnic, then we went back on the bus and back to school and had a little play. And then we went home. It was a great day!
If you put wipes down the toilet please can you put them in the bin?
Thanks for your brilliant Blog Post Tess...
...and keep up the awesome things that you're doing to protect wildlife! Keep an eye out everyone, Tess hasn't finished yet!! :-)
Have you got a good wildlife story to tell? If you'd like to join in with our blog please send your idea to info@northwaleswildlifetrust.org.uk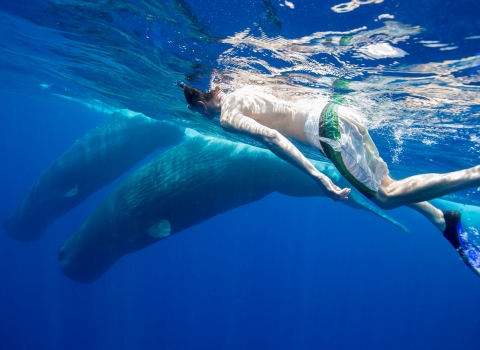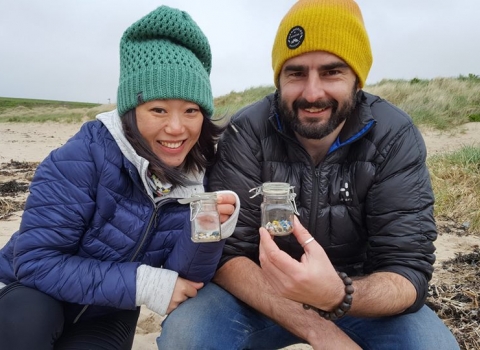 We are working towards our vision of Living Seas.
Find out more about what we do, events and what you can do to help us achieve our vision.
Find out more by clicking here