Over 30km of Himalayan balsam removed in 2019
At the heart of the Our River Wellbeing Project is the awe inspiring River Dee

ORW Project Officer, NWWT
As part of our Living Landscape strategy, the Our River Wellbeing Project was created to embody the North Wales Wildlife Trusts approach to the movement of people working together for wildlife. The project focuses on the improvement of the health and wellbeing of our Volunteer River Guardians. This is through the sustainable management of the Dee Catchment, focusing on the control, removal, and the prevention of the spread of invasive non-native species.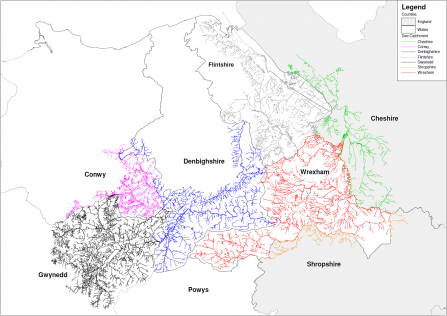 Discover the River Dee Catchment

The River Dee catchment is 110km long containing the Rivers Dee, Alyn, Alwen, Clywedog, Ceiriog, Wych and Tryweryn and Lakes Bala, Brenig, Celyn and the Alwen Reservoir. Maintaining the health and wellbeing of this huge area is very important as it contains:

One Area of Outstanding Beauty,
One RAMSAR site
Three National Nature Reserves
Three Special Areas of Conservation
Thirty three Sites Of Special Scientific Interest

It is also renowned for its landmarks, as well as its excellent fishing and canoeing hotspots, all of which bring in visitors from all over the world.
Invasive Non-Native Species (INNS) are species, be it animal, plant, insect, or parasite, which have been introduced outside of their native range. They cause damage to our environment, as well as threaten animal and human health and wellbeing.  
Why should we worry?

INNS have been recognised as one of the top threats to biodiversity and extinction rates globally. They are a concern because they can:

Compete with native species for space, light, water, and food
Increase our environments vulnerability to further invasions
Have a negative impact on the health of our environment by reducing biodiversity and water quality
Reduce our ability to access and enjoy water bodies for sport and recreation
Negatively impact tourism
Negatively impact the economy
Dense patches of growth can slow down the flow of rivers and increase flood risk
Damage infrastructure

Freshwater INNS are of a particular concern due to the high level of connectivity between environments. Rivers flow through many different habitats, and can increase the movement of INNS into new, previously unaffected areas.
You can play a big part in protecting the River Dee Catchment by assisting our dedicated Our River Wellbeing Project team with their management and prevention of INNS.
Join the River Guardian Network

The River Guardian Network is a group of dedicated volunteers who meet regularly to improve their health and wellbeing and that of the River Dee and its tributaries. Water is vital to life and ensuring our rivers and lakes are healthy can improve our own wellbeing.

Why become a Volunteer River Guardian?

By becoming a Volunteer River Guardian you can get involved in a variety of activities, including:

Surveys The river guardians carry out surveys for INNS along the River Dee and its tributaries. Volunteers are given training in how to recognise INNS and how to carry out surveys. Data from the surveys is then used to help plan what work needs to be done and where.

INNS Control The Our River Wellbeing project staff organise a variety of INNS control activities throughout the summer and autumn and appreciate all the help and support our wonderful volunteers give to help tackle INNS within the catchment.

Mindfulness The river guardians regularly take part in outdoor activities to boost their wellbeing through nature connection.

Bushcraft River guardians have sessions in the art of bushcraft to boost their wellbeing and improve their survival skills. Activities include how to light and maintain a fire and campfire cooking.

Training Volunteer river guardians are given the opportunity to access free accredited and unaccredited training and to improve their career prospects. You can learn a variety of new skills by becoming a river guardian.

If you would like more information on becoming a Volunteer River Guardian please contact:

Helen Carter-Emsell, Our River Wellbeing River Guardian Project Officer
Be part of your Local INNS Action Group

Are you concerned about INNS in your area and want to do more about it? There could be an INNS action group local to you that you could join, or alternatively you could start up your own. The Our River Wellbeing Project team can advise, train, and support you every step of the way.

If you would like more information on INNS local action groups please contact:

Gemma Rose, Our River Wellbeing Project Officer
Report an INNS sighting

Become part of the growing network of citizen scientists who are helping us to locate new and undiscovered INNS in the Dee Catchment. Take a photo and note down the location, then visit the DINNS page on the local environmental record centre, Cofnod to submit your sighting.

If you would like more information on submitting an invasive non-native species record please contact:

Gemma Rose, Our River Wellbeing Project Officer
Like what we do? Get informed and get involved.....