Chelsea Haden
Chelsea will celebrating her 30th birthday by standup paddleboarding 41 miles of the Llangollen Canal with her labrador Bel - picking up litter and raising money in aid of North Wales Wildlife Trust along the way! 
Support Chelsea today!
You can support Chelsea's amazing efforts with a donation to North Wales Wildlife Trust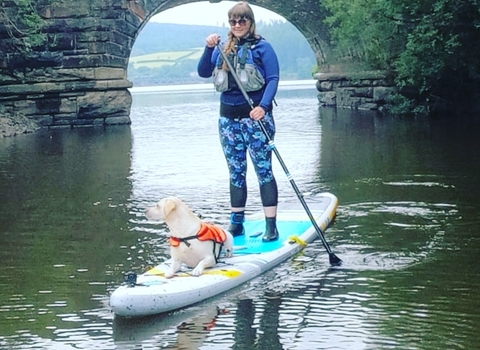 About me
Hello! I'm Chelsea, I live in North Wales and I'm a yoga teacher, outdoor enthusiast and use eco-therapy as a way of improving my mental health.  During Covid-19 lockdown,  it was evident that people turned to nature as a way of keeping their spirits up. It was also amazing to see wildlife thrive and natural spaces kept clean but since lockdown ended, there's been a surge in litter and I want to do my part in protecting our wildlife  in a hope others will be inspired to keep their environment tidy and clean.  Please follow me on Facebook @lovinglifeinwelliesblog and Instagram @lovinglifeinwellies to find out about how my adventure and what I find along the way!